Lebanon Chamber of Commerce Member Announcements
BOARD & GENERAL CHAMBER MEETINGS
4th Thursday of the Month – 8:30 a.m. at the Lebanon Visitor's Center
(3rd Thursday in November, No meeting in December for holidays)
LEBANON MERCHANT ASSOCIATION MEETINGS
2nd Thursday of the Month (Unless otherwise noted) – 8:30 am at the Lebanon Visitor's Center (downstairs)
CHAMBER BUSINESS OVER BREAKFAST (BOB)

See Community Calendar for Location/Time
CHAMBER MEMBER LUNCH (Networking or Lunch & Learn)

See Community Calendar for Location/Time
CHAMBER BUSINESS AFTER HOURS (BAH)

See Community Calendar for Location/Time
The Lebanon Visitor's Center has a meeting room in the basement with tables and chairs, flat screen TV with HDMI for computer presentations, a kitchen, and public restrooms.  Maximum occupancy for meeting room is 50 guests.  Lebanon Chamber of Commerce Members receive a discounted rate for room rental.
Download facility use agreement below and submit reservation form with rental deposit check to the Lebanon Visitors' Center at:
Lebanon Visitors' Center
221 W. St. Louis Street
Lebanon IL 62254
Contact the Visitors' Center at 618-537-8420 for more information.
City of Lebanon Sales Tax Increase as of July 1, 2014: 7.85%
Each year, nationwide, there is a campaign to promote shopping small businesses on the Saturday after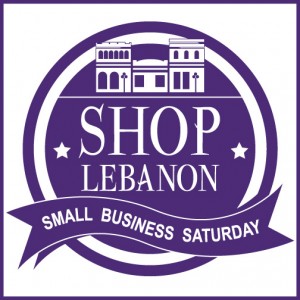 Black Friday. This event has been in the news for several years and has become a highly recognizable and successful campaign for small business to boost their sales for the holidays when competing with malls and big box stores. The Lebanon Merchant's
Association has discussed building on this marketing idea and extend the success of small business Saturday by promoting it throughout the entire year.
As part of this effort the Merchants have had printed, and dispersed to all businesses "Small Business Saturday" window clings to begin this promotion on St. Louis Street and beyond. It is our hope that all businesses will support and participate in this effort.
Small business Saturday will be held in conjunction with the Classic Car shows which are held on St. Louis Street the first Saturday of each month from May to October. The remaining months will continue to promote the event on the first Saturday of each subsequent month, November thru April. Some of these dates will coincide with other events, which we feel is an additional opportunity to make the buying public aware of the presence and importance of small businesses in a community and how the dollars spent locally multiply and help the entire area prosper, grow and financially aid public services that we all use.
All businesses are asked to participate by offering a special sale on merchandise or have an in-store promotion or small event to emphasize the value and convenience of shopping locally. This is strongly encouraged, but not a must. Each business owner must determine for themselves how they wish to take advantage of this opportunity. Remember, when you display the window cling you are not only supporting your business, but every business in Lebanon. When one succeeds, we all benefit.
If you have not received your window cling, and want very much to help promote this event, please contact Design 5 and they will make sure one is promptly delivered. For those who already have the cling, please display it proudly in your front window or door.